Life Before prodisc
Dr. Jason M. Cuéllar, an orthopedic spine surgeon with affiliations to Cedar-Sinai Spine Center of Excellence and Lanman Spinal Neurosurgery, has been using prodisc since 2016 and has seen, firsthand, the excellent outcomes of his total disc replacement patients.
Yet, Dr. Cuéllar's own history of pain and recovery began at age 20, when he was first diagnosed with a herniated disc. As an individual who has always enjoyed getting outdoors as often as possible, he didn't want to be limited by the pain this herniated disc was causing. In fact, Dr. Cuéllar continued to live a very active lifestyle—with favorite activities including mountain biking, horseback riding, hiking, snowboarding, waterskiing, wakeboarding, and swimming.
Six months after his initial diagnosis, he had a microdiscectomy to relieve his symptoms of discomfort, but the pain returned after only 6 months. Unfortunately, he continued to suffer from leg pain for another 20 years, but was still able to remain active by "pushing through" it.
However, his leg pain continued to worsen and, in 2017, Dr. Cuéllar underwent a second microdiscectomy. To his disappointment, the surgery failed to relieve his symptoms long-term. According to Dr. Cuéllar, "sitting for extended periods of time was extremely difficult. Even sitting through a regular-length dinner caused me severe leg pain, and I would have to get up and walk around."
"After more than a year, I reached the point where I couldn't stand or walk for any amount of time."
Dr. Cuéllar's suffering started to negatively affect his family, as well. His wife—a hand and wrist surgeon, herself— saw the change in his mood as he started to become more irritable, feeling increasingly discouraged when it became difficult to carry his infant son for any amount of time.
Seeking relief, Dr. Cuéllar tried a variety of treatments over the years, including epidural steroid injections, pain medication, anti-inflammatory medication for neuropathy, and physical therapy. Nevertheless, nothing gave him full relief from the leg pain. Dr. Cuéllar claims, "after more than a year, I reached the point where I couldn't stand or walk for any amount of time. The pain was excruciating, and it was no way to live."
As a spine surgeon working with prodisc, he would see his patients regain their active lives following surgery, and even expressed to his wife that he was jealous of what they could do after their procedure. No longer content to put off surgery, Dr. Cuéllar decided it was time to try a more permanent solution to relieve his pain by undergoing a lumbar total disc replacement, himself.
Life After prodisc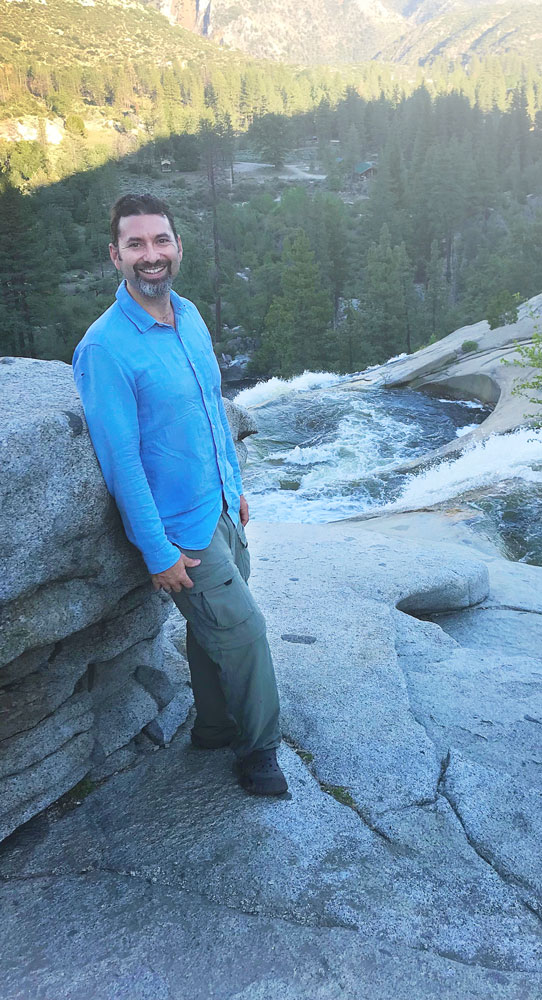 In January 2019, Dr. Cuéllar underwent a Lumbar Total Disc Replacement procedure, with prodisc L. Performed at an outpatient surgery center, Dr Cuéllar was released about 3 hours after the surgery to begin recovering at home. Since his medical team used a nerve block during the operation, Dr. Cuéllar didn't have any pain for the first 24 hours. In fact, even when he started feeling some pain the following day, it only lasted for about 8 hours.
While Dr. Cuéllar felt some intermittent soreness in his abdomen over the next 2 weeks, he still never needed pain medication. He was content with icing his abdomen and taking anti-inflammatories and was back to seeing patients again about one week after surgery! Several days after that, he was able return to the operating room and perform surgery. "It felt great to be able to sit for longer periods of time and start getting back to my normal life."
"I wish I had the surgery much sooner!"
Dr. Cuéllar was back to working out at the gym 3 weeks post-operatively and figured out which exercises he was able to do. Then, at 6 weeks post-op, he felt much better—able to resume more of his normal exercise routine.
By 3 months post-op, Dr. Cuéllar was pain free and back to "living life!" Without the former leg pain, he could sit, stand, and walk without any discomfort.
As a surgeon, Dr. Cuéllar tells his patients to build up their quadricep muscles to help post-operatively, since they will be unable to bend over for a while. Following this advice himself, and due to his experience as a prodisc patient, he created a website demonstrating the appropriate exercises to perform at various stages of post-op recovery. He refers patients to this website as a tool to demonstrate his, and their, abilities and limitations through recovery.
Now, Dr. Cuéllar has regained his active life. Most importantly, he can now carry his 30- pound son without any issues! He notes, "for Father's Day this year, I went fishing and hiking with my Dad—completing a 7-mile hike and spending the day outdoors which felt great!"
Important Note: The patient information presented is for general education purposes only. As with any spine surgery, there are potential benefits, complications, and risks associated with disc replacement and spinal fusion procedures. Individual results may vary. It is important that you discuss the possible risks and potential benefits of various procedures with your doctor prior to receiving treatment, and that you rely on your physician's best judgment. Only your doctor can determine whether you are a suitable candidate for a specific surgical procedure.